U kent het wel. Op een bepaald punt in uw leven beslist u om bv zonnepanelen te installeren. En in die periode kijkt u elke dag naar de opbrengst van investering. Tot op een punt dat het nieuwe eraf is. En dan kijk je nog 1x per week. En later 1x per maand. En tenslotte alleen maar als je het echt nodig acht. En wat merk je dan? Dat dit niet meer werkt?! Grrrr…..
Of misschien een concreter voorbeeld? Uw internet provider verkoopt u een internetaansluiting met 300MB download, en 30MB upload. OK, dit is theoretisch. En veel hangt af van het aantal internetbezoeken in uw straat, of het weer, een windows update die gedownload wordt, of …
Persoonlijk kan ik leven met het feit dat die snelheid rond de 200MB download en 20MB upload ligt. Want laat ons eerlijk zijn, wie heeft zulke snelheden echt nodig? Het is net als uw auto die 180 km/u kan, en waar u toch niet sneller dan 120 km/u met mag…
Maar hoeveel bandbreedte heeft u nu echt tot uw beschikking? Op welke momenten surft u het snelst? Of hoe lang doet het probleem zich al voor?
… Laat uw server u helpen om dit in de gaten te houden …

---
De intelligentie
Online?
Met dit voorbeeld wil ik je tonen hoe makkelijk het is om ervoor te zorgen dat je automatisch op de hoogte gebracht wordt als een van je toestellen geen data meer doorstuurt. Dit lost natuurlijk niet het probleem op. Maar brengt je wel vrij snel op de hoogte dat je best even je toestel onder de loep neemt.
Met een vrij simpel script kan je de data bekijken van de laatste x-tijd. En mits een klein beetje denkwerk rond deze data kom je al vlug tot een simpele formule. Om onze zonnepanelen hier als voorbeeld te gebruiken:
PVOnline = DagData > 0
Om even te overlopen wat ik hier betracht:
We bekijken enkel de data van tijdens de dag. Bv tussen 8u00 en 16u00
En indien deze groter dan 0 is, dan is er data binnen gekomen.
Is deze 0, dan is er waarschijnlijk geen data binnen gekomen. Stuur dan bv een klein mailtje.
En dit script draaien we 1x per dag, rond bv 18u
Hieronder ziet u bv waar de PV-omvormer opeens geen data meer doorstuurde. Na een herstart van de omvormer was dit probleem opgelost..

---
Bandbreedte
Indien je je server elk uur een download testje laat draaien, dan heb je op één week al vlug een mooie grafiek met je internetsnelheid. Die toch een vrij realistisch beeld weergeeft. Je kan dit ook elke 5 minuten draaien, maar hou er rekening mee dat die testen zelf vrij belastend zijn voor je bandbreedte, en downloadpakket. Dus wees voorzichtig dat je zelf niet de oorzaak bent van traag internet.
Dankzij onderstaande grafiek merkte ik bv dat het internet nogal traag was. En een simpele herstart van de modem bracht soelaas.
Probeer zelf maar even te vinden op welk moment ik de modem herstartte.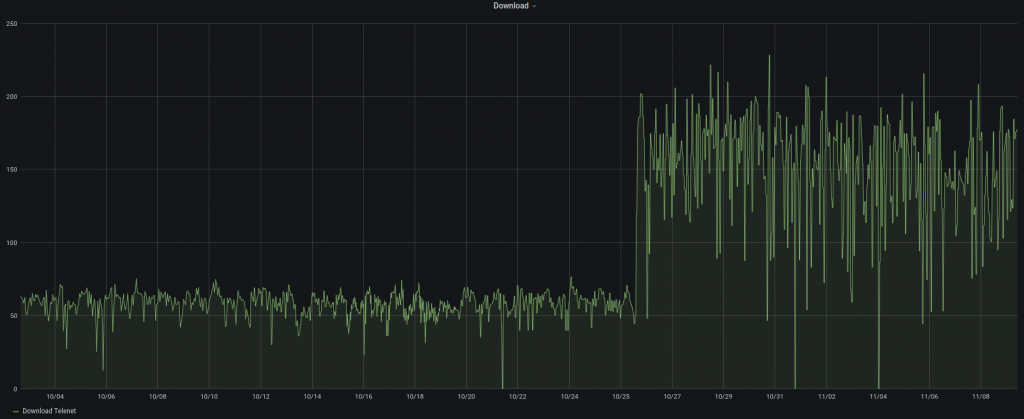 ---
Conclusie
Met data alleen ben je op zich niet veel. Je moet natuurlijk ook iets doen met al die data!
Met een paar kleine ingrepen kan je al heel vlug nuttige intelligentie toevoegen.